On this website, you can read about horse racing in Delaware.
Delaware Park Racetrack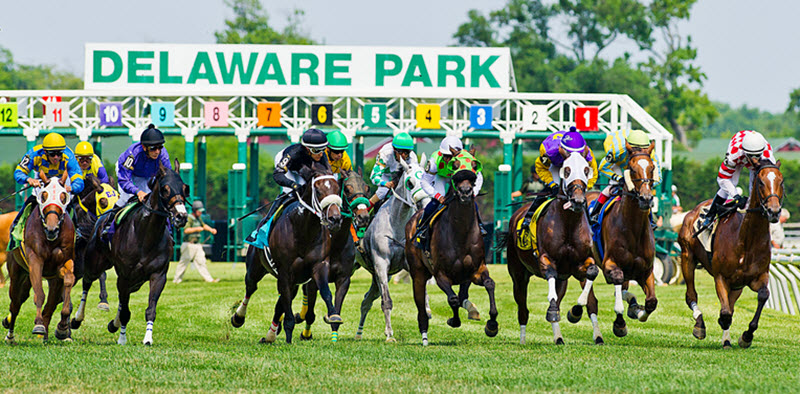 Delaware Park Racetrack is the only extant track for thoroughbred horse racing in the state of Delaware.
Opened back in 1937, Delaware Park (also known as DelPark) is located in Stanton, an unincorporated community in New Castle County, Delaware. Delaware Park is close to the city Wilmington, and roughly 30 miles from Philadelphia.
In addition to horse racing, DelPark also features a golf course and a casino.
Short facts about the horse racing at Delaware Park
Races are run from May to October.
The two principal races are Delaware Oaks (G2) and Delaware Handicap (G2).
The main type of horse racing here is flat racing for Thoroughbreds, but Arabian flat races are also held here. DelPark is the only mid-Atlantic track to regularly card Arabian races.
Betting on horse races
Wagering on live and simulcast horse races is offered at the Sports Book at Delaware Park.
In addition to the local races, Delaware Park offers simulcasts of races that are taking place at other tracks, giving bettors a wider range of betting opportunities.
Thoroughbred racing
Small fields are relatively common occurrence at Delaware Park because the entries are drawn well in advance, and late scratches will thin out the starting field. Don't be surprised if you see four-horse fields, or even three-horse fields when the weather is poor.
I DelPark part of a racing circuit?
No, Delaware Park is a standalone track that isn't a part of any racing circuit.
Many of the horses that compete at Delaware Park during the summer spend the rest of the year in Florida or are sent up to New York when it's off-season in Delaware.
Examples of notable annual races at the Delaware Park Racetrack
Grade I: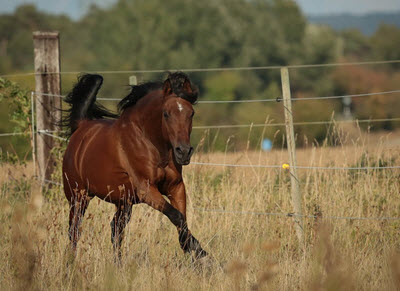 Grade II:
Grade III:
Barbaro Stakes
The Barbaro Stakes is a horse race held at Delaware Park Racetrack. Named in honor of Barbaro, the 2006 Kentucky Derby winner who tragically broke down in the Preakness Stakes, this race serves as a tribute to the beloved thoroughbred.
Endine Stakes
The Endine Stakes is a notable horse race taking place at Delaware Park Racetrack.

Kent Stakes
The Kent Stakes is a notable horse race taking place at Delaware Park Racetrack. It's tailored for three-year-olds and often showcases budding talents in the thoroughbred racing scene. Held on turf, this race has become a significant event on the racing calendar, drawing attention from enthusiasts and bettors alike.
Obeah Stakes
The Obeah Stakes is a prominent horse race held at Delaware Park Racetrack. Named after the legendary mare, Obeah, who achieved significant victories in the late 1960s, this race attracts top fillies and mares. Winning the Obeah Stakes often signifies a contender for the Delaware Handicap, one of Delaware Park's premier events.
Casino
The casino house at DelPark has approximately 2,500 slot machines. Some of them are linked to multi-jurisdictional progressive jackpots.
Live table games have been available here since 2010 when the state law was changed. Examples of available games are Craps, Blackjack, Roulette, Spanish 21, Mississippi Stud, and Pai Gow Poker.
Keno is offered at various locations throughout the casino.
There are many online casinos that cater to people in Delaware. You can compare US casinos here. Most online casinos offer better odds than the casino house at DelPark and all other regular casinos.
Sports Book
Betting on National Football League (NFL) games has been possible at DelPark since 2009 when the state law was changed to allow this kind of betting.
In 2018, the sports betting offering was expanded to single-game and parlay betting on all professional and college sports, except for Delaware college teams. This means that you can bet on sports such as basketball, baseball, football, soccers, hockey, boxing, MMA, golf, and more at DelPark.
Football games are televised at the Sports Book throughout the week, and in the Sports Bar on Sundays.
If you live outside the US and want to find a sportsbook that allow you to gamble on Delaware horse racing then I recommend that you visit the Swedish website vinnare.se.  They feature information on some of best online casinos and sportsbooks in the world.
Golf
The Delaware Park is home to the White Clay Creek Country Club golf course. This is an 18-hole, par 72 golf course.
Background
William Francis DuPont, Jr (1896-1965) designed and built Delaware Park Racetrack in partnership with Donald Peabody Ross (1902-1973).
DuPont, a member of the prominent Delaware Du Pont family, was a businessman and banker who developed and designed more than 20 different horse racing venues.
Ross was a businessman, owner of the Brandywine Stable and steward of The Jockey Club.