Harness racing is a type of horse racing where the horses race at a specific gait; a trot or a pace. Typically, the horse will be pulling a driver in a sulky (a kind of two-wheeled cart).
In Europe, trot monté is considered a type of harness racing even though a jockey is mounted on the horse.
Horse breeds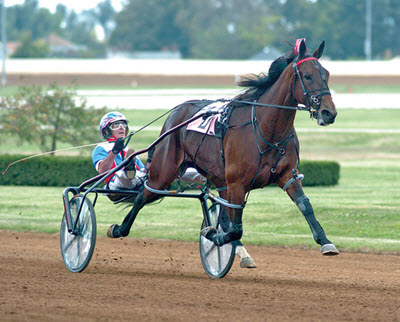 In North America, pretty much all harness racing events are limited to Standardbreds only. The Standardbred is a sold and well-built North American horse breed famed for being great a harness racing. Even though it was developed in North America, it can trace its ancestry back to 18th century England.
In Europe, harness racing events tend to be more open. Standardbreds are common, but you can also see breeds such as Frech Trotters, Russian Trotters, and even cold-blooded. Some breeds, such as the Orlov Trotters and the Finnhorses, have their own breed-specific races.
Trotting vs pacing
Trotting: The horse moves its legs forward in diagonal pairs, i.e. right front & left hind, and then left front & right hind.
Pacing: The horse moves its legs laterally, i.e. right front & right hind, and the left front & left hind.
Pacing is faster than trotting, and a pacing horse is also less likely to break stride and start galloping compared to a trotting horse. Partly, the reduced risk for breaking stride isn't because of the pacing itself but because pacers often wear hobbles during races. Hobbles are straps connecting the legs on each of the horse's sides. Trotting hobbles do exist, but are not common, although there has been an increased interest in them during recent years.
Trotting races and pacing races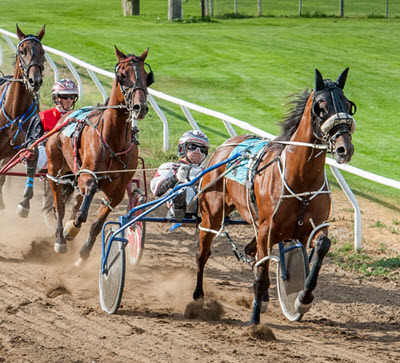 In continental Europe, races are conducted exclusively for trotters. In the United Kingdom, races are also held for pacers, and that is also true for some other countries, including the United States, Canada, Australia, and New Zealand.
In the United States, pacing races are much more common than trotter races, with over 80% of all harness races being for pacers.
Harness tracks in North America
Examples of major harness tracks in North America:
Meadowlands Racetrack in New Jersey, USA
Yonkers Raceway in New York State, USA
The Red Mile in Kentucky, USA
Woodbine Racetrack in Ontario, Canada
Mohawk Raceway in Ontario, Canada
Examples of important races in the United States and Canda
The Hambletonian for 3-year-old trotters. This race is a part of the Triple Crown of Harness Racing for Trotters. It is held at Meadowlands Racetrack in New Jersey.
The Little Brown Jug for 3-year-old pacers. This race is a part of the Triple Crown of Harness Racing for Pacers. It is hosted by the Delaware County Agricultural Society since and held at the Delaware County Fairgrounds racetrack in Delaware, Ohio.
The Breeders Crown series of 12 races, covering each of the traditional categories of gait, sex, and age.
The Gold Cup and Saucer at Charlettown Driving Park, Prince Edward Island, Canada.
The North America Cup, a race for 3-year-old standardbred pacing horses. It is held at Mohawk Raceway in Campbellville, Ontario, Canada.